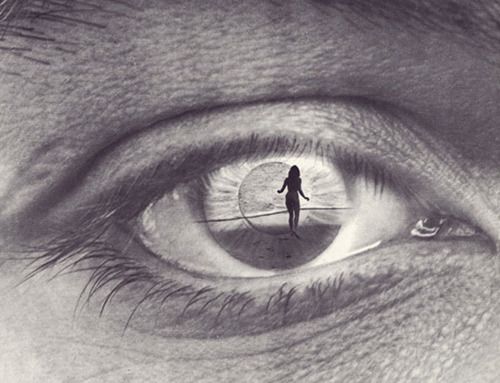 When awake, we are bombarded by external forces and stimuli which influence how we behave and project ourselves to the world. As we sleep, we carry all this information into the dream world, so that we can process and reflect on the events that happened during the day. During waking hours, our mind is constantly aware of the surroundings and the outer world, but when we dream our subconscious shifts its attention to the inner world for introspection. It is the time for internalizing all the information we absorbed and finding possible connections in seemingly random images. This is why so many people see images of themselves or their reflections in dreams.
Could self-reflections be a projection of existing psychological issues?
When it comes to self-reflection, it can be a case of too much or too little. Why? Seeing a reflection of yourself on a glassy surface or a mirror in a dream can often manifest as a projection of the dreamer's need for self-examination or as a result of being too self-conscious. The former propels the dreamer into action towards increased self-awareness, while the latter warns against the possibility of spiraling into vanity, narcissism and even crippling self-doubt. Either way, scrutinizing your reflection serves as a critique of your current state. It suggests an imbalance that needs to be corrected for the dreamer to live in harmony with others.
Are fragmented and distorted reflections within dreams valid and analyzable?
Self-reflections and mirror images are oftentimes benign and merely gentle prodding of our subconscious to put us into tip-top shape emotionally and psychologically. It becomes more concerning, however, when the images appear distorted, fragmented or broken. These types of manifestations are usually associated with nightmare scenarios and should be analyzed more seriously to get to the root of the issue. A fragmented reflection, maybe seen in a broken mirror in a dream, could portend illness, accidents and even death. These cases would require a careful evaluation of critical aspects of your existence to help counteract the bad omen conveyed by the vision.
Do common interpretations of seeing your own likeness reveal your personality flaws?
Among the most common self-reflection themes in dreams are an absence of reflection, a blurry image and having someone else instead of your own reflection or image. In these cases, dreams about the absence of reflection could be pointing to a loss of identity. There may be incidents in which you could be coerced to act against your principles or perhaps you would behave according to the will of others in order to be liked or to please them. Meanwhile, a blurry self image depicts a lack of conviction. Some dreamers who experience this dream scenario end up getting passed over for a promotion or not getting hired because of their erratic nature and inconsistent behavior. Finally, when someone else is looking at you from your reflection or image in a dream, it means you are insecure and afraid of being judged. In certain instances, this type of dream depicts an upcoming social gathering or event which would put you into the spotlight or require you to have your best foot forward.
Dreams could reveal our hidden desires, suppressed feelings and developing issues. In rare instances, they can give us a glimpse of what is to come. They can provide solace or add to our trepidation, depending on the dreamer's state of mind. In the case of visions with self-reflection, identity comes to the fore. To unlock the message of these dreams, a follow-up self-examination is essential. While it is easy to disregard dream symbols and consider them mere distractions from daily existence, there is merit in interpreting their meaning to help identify and anticipate issues that may have been buried in the busyness of day-to-day life. Who knows, understanding how your mind works may unlock insights and aspects of yourself you never even thought existed.